TRAILBLAZER. INNOVATOR. ORIGINATOR. RISK TAKER.
"To pass away on Mother's Day may not have been an accident... Horne was a Mother of her era and a trailblazer paving the way for many African-American Actresses to succeed just as she did... to break barriers just as she did... and to open the world's eyes to the beauty in accepting our differences. Lena Horne will truly be missed for she possessed a timeless beauty, intelligence, and flair that cannot be duplicated. "

~ Purple Reels ~
STORMY WEATHER (1943)
"Stormy Weather" is a musical extravaganca that still enthralls today after more than 65 years after its' intial release.This picture also has turned into a valuable musical historical treasure,showcasing some of the best black talents of the 20th Century.It is like an animated museum piece but there's no dust or relics here,brother.This film is still alive and vibrant and each performance still gives out and has as much to say now as it did in 1943.
The plot is a trifle to be sure.The star Bill Robsinson is sitting on his front porch with some young relatives reminiscing about his career,which is told in extended flashbacks.Each flashback is filled with various musical numbers by his co-stars and/or himself.This continues unabated until the pictures' closing moments.
The producer and director give all acts ample time to showcase their talents throughout and in most cases are given at least two numbers each;in Bill Robsinsons' and Lena Hornes' cases it is multiple numbers.Of course we all know the legend of Bill Robinson,his superior terpsichorean abilities and the inspiration he gave(and still gives)to so many dancers throughout the years,both black and white.Lena Horne was just coming into her own and she is showcased beautifully throughout the film with several numbers to her credit.Each song is sung in her inimitable style along with the famous title song..."
"Stormy Weather"
Don't know why
There's no sun up in the sky


Stormy

weather


Since my man and I ain't together
Keeps raining all the time
Life is bare
Gloom and misery everywhere


Stormy

weather


Just can't get my poor self together
It's rainin' all the time
Since he went away
The blues walked in and met me
If he stays away
Ol' rocking chair will get me
All I do is pray
The Lord above will let me
Walk in the sun once more
Can't go on
Everything I had is gone


Stormy

weather


Since my man and I ain't together
It's raining all the time
I walk around heavy hearted and sad
Night comes around
And I'm still feeling bad
Rain's pourin' down
Blindin' every hope I had
This pitterin' patterin'
Beatin and spattering
Drives me mad
This misery's just too much for me
Can't go on
Everything I have is gone


Stormy

weather


Since my man and I ain't together
It's rainin' all the time
Keeps rainin' all the time
CABIN IN THE SKY (1943)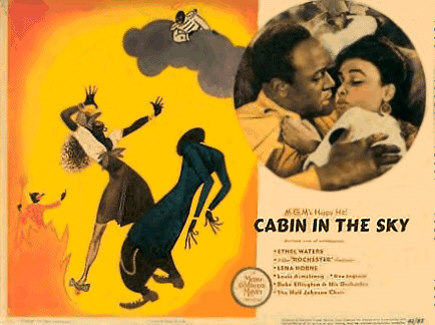 The first film directed by Vincente Minnelli (who directed the original Broadway version), this musical offers its pleasures, but also may make you squirm at the racial stereotypes that were considered both acceptable and entertaining in 1943. A story of the struggle between good and evil for the soul of a man named Little Joe (Eddie "Rochester" Anderson), the film plays with the same kind of racial notions that made Stepin Fetchit a star. Still, there's much to recommend it, particularly performances by some of the greatest musical stars of the day: Lena Horne, Ethel Waters, Louis Armstrong, and Duke Ellington, among others. The film also includes a terrific score, a combination effort by Ellington, Harold Arlen, Vernon Duke, and E.Y. Harburg that includes the song "Taking a Chance on Love." --Marshall Fine
LENA CALHOUN HORNE [June 30, 1917 - May 9, 2010]
"Ode to Lena"
"We thank you for all that you have done for us as a people. You paved the way for so many of us to succeed. You gave us hope in knowing that one day we could be all that you have been and more. In that hope you gave us a reason to believe once more. It is an honor to have had the privilege to witness your beauty and soak in your wisdom. You took the risk... you paved the way... you blazed a trail that cannot be erased... a spirit like yours cannot be easily replaced... you were a phenomenal woman... phenomenal in every way... a beautiful mix of our history... the history of a nation that is still realizing its full potential ... now we can rest assure that your efforts will not go unnoticed... a jewel that was sent here to shine so bright that change could not put up a fight... Lena was her name... beauty and wisdom were her claim to fame...
Ode to Lena
may they always remember your name"
Written by Purple Tramble [Purple Reels The Go Getter]
As always remember to be

"REEL"

and stay on the

MOVE!
"Purple Reels
The Go Getter"